Beginner Muay Thai Kickboxing Classes Enrolling In May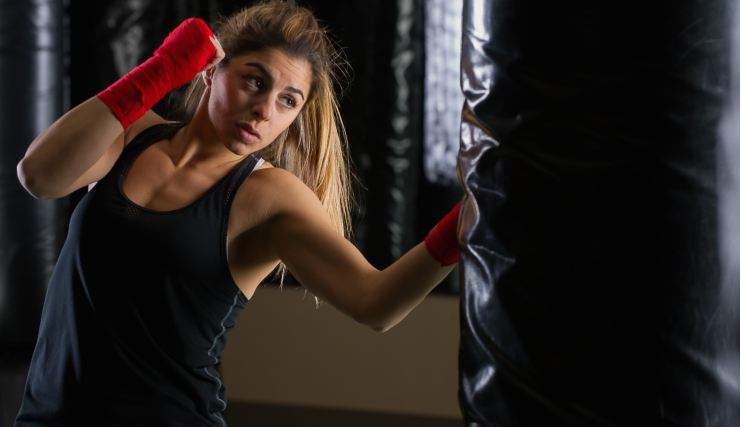 Are you ready to discover the one martial arts program that will give you an incredible full-body workout along with life-saving self-defense skills that will protect you from even the most ruthless attacker? Then it's time for you to check out the Muay Thai Kickboxing classes at Connecticut Martial Arts.
There's simply no better way to lose weight and get into great shape. The Muay Thai Kickboxing classes at Connecticut Martial Arts will have you burning as many as 800 calories with each class!
ULTIMATE FITNESS. ULTIMATE SELF-DEFENSE.
Muay Thai, also known as "The Art of Eight Limbs," utilizes the hands, feet, elbows and knees as part of an eight-point strategy for sport, competition and/or fitness. Connecticut Martial Arts' Muay Thai program is a great way to get in amazing shape and learn real Muay Thai skills.
Beginning with your very first class, you'll jumpstart your metabolism and take a blowtorch to ugly body fat with powerful punches and swift kicks that will leave you more slim and firm than you've ever been before! But an amazing body isn't your only reward when you take the Muay Thai Kickboxing classes at Connecticut Martial Arts.
With each new Muay Thai Kickboxing class at Connecticut Martial Arts, our incredible instructors will whip you into amazing shape, preparing you for anything life throws your way. But the Muay Thai classes at Connecticut Martial Arts give you so much more than just an amazing full-body workout and serious self-defense skills. In fact, our Muay Thai classes offer countless benefits, including:
Effortless weight maintenance without dieting!
You'll enjoy a drastic reduction in your daily stress levels
You'll inherit razor-sharp concentration skills
You'll experience undying energy that keeps you going all day long
Your fitness levels will be off the charts
Your self-confidence will skyrocket as you master powerful self-defense moves
CHANGE YOUR LIFE TODAY WITH MUAY THAI KICKBOXING!
There's never been a better time to discover how Muay Thai Kickboxing can change your life! That's because Connecticut Martial Arts is introducing new Muay Thai classes that start this month!
Why wait? Get into the best shape of your life with Connecticut Martial Arts. Just fill out the short form on this page to get all the information you need to get signed up immediately.