Beginner Kids Martial Arts Classes Enrolling In June
Give your child the action-packed Kids Martial Arts classes at Connecticut Martial Arts, and you're bound to witness an amazing transformation! From a new found passion for physical fitness, to steadfast discipline and unwavering self-confidence, our Kids Martial Arts classes have so much to offer.
Our Kids Martial Arts program appeals to kids from age 4 and up, with exciting foundational training for Tiger Cubs students ages 4-6 and challenging courses in the Juniors program for ages 7-12.
We the Martial Arts to teach balance, coordination, fine and gross motor skills and self-control and of course, respect. Kids are divided into small groups based on age and experience. Children will also learn self-defense and anti-bullying tactics in classes that are highly supervised by our expert Black Belt instructors.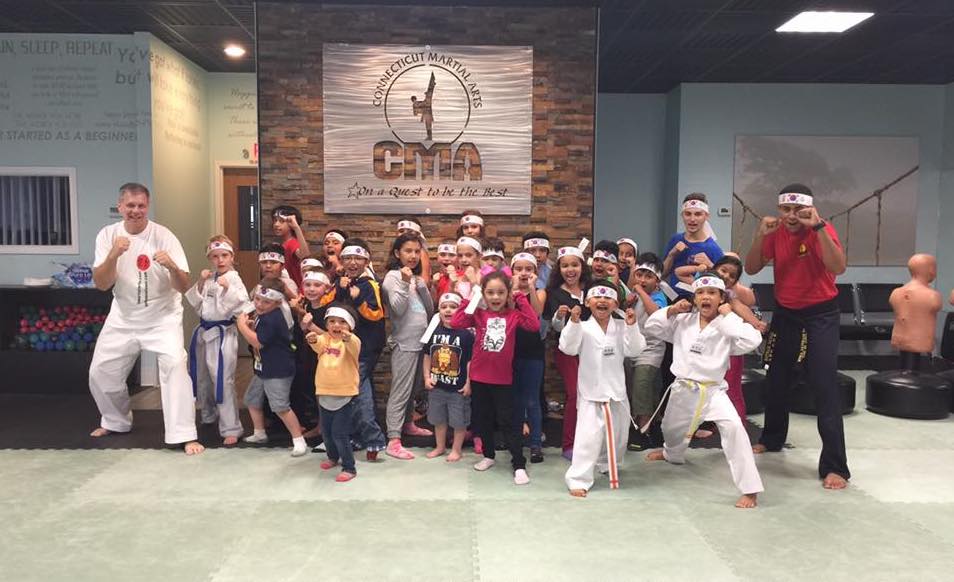 OUR KIDS MARTIAL ARTS CLASSES OFFER UNENDING BENEFITS
Our Kids Martial Arts curriculum is expertly crafted so that everyone can learn and progress. With more than 20 years of teaching children in Danbury, our program stands above all others.
Whether your child is just starting out and has never taken a martial arts class before, or whether your child already has received an entire rainbow of belt colors, we'll help your child to exceed at martial arts. And while we do, your child will enjoy countless benefits from this amazing kids activity. Here's just a sampling of what you can expect:
Your child will get passionate about physical fitness
Improved listening and concentration skills will improve academic performance
Your child's self-respect and self-confidence will skyrocket
We'll teach your child stranger awareness and personal safety
Leadership skills and character development will set your child apart from the crowd
Critical self-defense skills your child needs to handle bullies, peer pressure and more
And For The Little One In Your Life, Take Advantage Of Our Tiger Cubs Classes!
Martial Arts Training can teach even the youngest kids how to build confidence and take pride in everything they do. Join us at Connecticut Martial Arts and take on this specialty program designed just for students ages 4-6!
Our Tiger Cubs can learn:
Balance and coordination
How to follow instructions
Vital social skills
Confidence in everything they do
Connecticut Martial Arts believes in giving every child the best opportunity for success. We accomplish this by keeping our class sizes to a minimum, so you can rest assured that your child will get plenty of one-on-one instruction with our world-class Black Belt masters.
THE BEST THING YOU CAN DO FOR YOUR CHILD!
With new Kids Martial Arts classes starting this month, there's no reason to wait to get started. And for a limited time, we're offering a very special introductory price on our Kids Martial Arts classes. To learn more, just complete the short form on this page. We'll give you all the information you need to get your child started in the fun and rewarding Kids Martial Arts classes at Connecticut Martial Arts.
Kids Martial Arts Program Age Groups
From Age 4 To 6 (Tiger Cubs)
From Age 7 To 12 (Juniors)